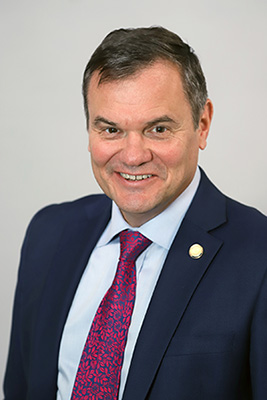 Airservices welcomes the appointment of former Australian Transport Safety Bureau (ATSB) Chief Commissioner, Mr Greg Hood, to the Board. Mr Hood was appointed by Deputy Prime Minister and Minister for Infrastructure, Transport and Regional Development, the Hon Barnaby Joyce MP, and will serve as Deputy Chair for the next three years commencing 8 September 2021.
Airservices Chairman John Weber and the rest of the Board acknowledged the extensive aviation experience Mr Hood would bring at a time when Airservices and the aviation industry were responding to challenges such as COVID-19 and opportunities being presented by technology such as drones.
"On behalf of myself and the Board, I sincerely welcome Mr Hood to Airservices. He has a wealth of knowledge and experience in aviation and safety, and we look forward to his contribution at this critical juncture," Mr Weber said.
For the last five years, Mr Hood has served as Chief Commissioner and CEO of the Australian Transport Safety Bureau (ATSB), Australia's national transport safety investigation agency.
He has more than 41 years' experience in the transport industry, beginning his career with almost a decade of service with the Royal Australian Air Force (RAAF). He has since had a wide range of operational, training and leadership roles across the civil aviation industry.
In accepting the role, Mr Hood said, "I am greatly honoured to be appointed as Deputy Chair of Airservices, which has an excellent international reputation for air traffic management and aviation rescue fire fighting service delivery.
"I hope to be able to contribute positively to the well-established safety and service culture within the organisation as we navigate through the introduction of OneSKY, focus on the management of noise and the environment, and work with industry partners to safely manage the expansion of remotely piloted aircraft systems."
Mr Hood also holds qualifications as a glider and powered aircraft pilot, and is a Fellow of the Royal Aeronautical Society, a Freeman in the Honourable Company of Air Pilots, and a Life Member of the Qantas Founders Museum.
Mr Hood replaces Air Chief Marshall Mark Binskin AC (Ret'd) who resigned in July 2021 to take up the role of Chair of the Civil Aviation Safety Authority (CASA). For media enquiries call 1300 619 341 or email: media@airservicesaustralia.com