Our approach to PFAS management
We work closely with Commonwealth, State and Territory government health and environment regulators, policy agencies, airport owners and operators, and research institutions to manage the impacts of historical PFAS contaminants.
Media enquiries should be directed to Airservices media on 1300 619 341 or media@airservicesaustralia.com.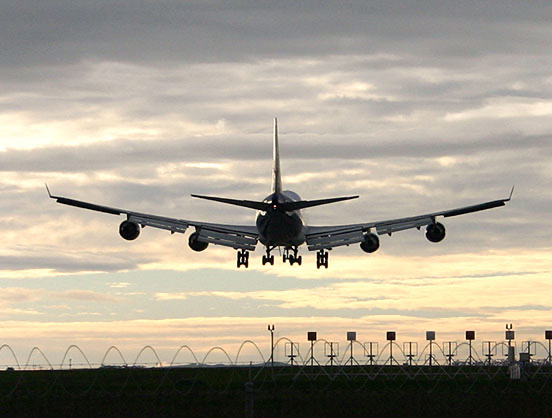 While it is still uncertain if there are any health impacts from exposure to PFAS, we have been proactive in moving away from PFAS-containing foams, conducting site testing and working with our staff to better under any potential exposure impacts from the historic use of these products.
We are managing the PFAS issue by developing a better understanding of the issues through site assessments, implementing a research and development program, and continuing to work with relevant Commonwealth and State/Territory authorities to develop a nationally consistent framework and regulatory guidance for the ongoing management of PFAS across Australia.
We continue to implement a risk-based national program to better understand the extent and level of PFAS impacts resulting from the historic use of fire fighting foam at airports where we operate and enable us to determine next steps.
Site investigation summaries
Note: The following list of locations notes where ARFF services were not provided by Airservices: Essendon Airport (VIC), Moorabbin Airport (VIC), Parafield Airport (SA), Jandakot Airport (WA), Archerfield (QLD), Bundaberg (QLD), Eagle Farm (QLD), Mt Isa (QLD), Proserpine (QLD), Devonport (TAS), Wynyard (TAS), Bankstown (NSW), Tamworth (NSW) and Norfolk Island (NSW). Airservices was established in 1995 via the Air Services Act 1995. Responsibility for management of any potential legacy PFAS contamination from historic ARFFS operations at these sites is a complex matter that is currently being considered by the Commonwealth.
The primary function of Aviation Rescue Fire Fighting Services (ARFFS) is to save lives and protect property at 27 of Australia's busiest airports. The services we provide must comply with Australian civil aviation regulations, which specify performance, training and operational requirements, including fire fighting foams.
We have not used a fire fighting foam containing PFAS—per- and poly-fluoroalkyl substances—since 2010 at any of our 24 civilian airport operations across Australia, and proactively began phasing out foams containing PFAS in the early 2000s.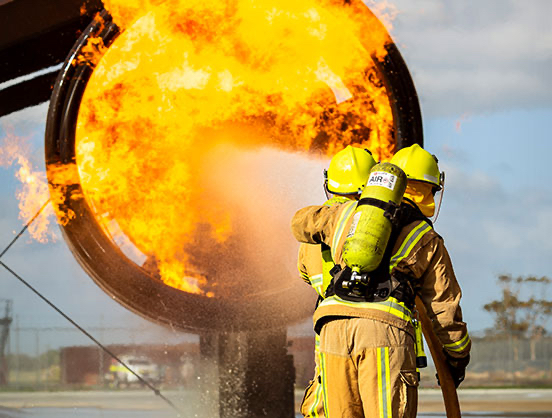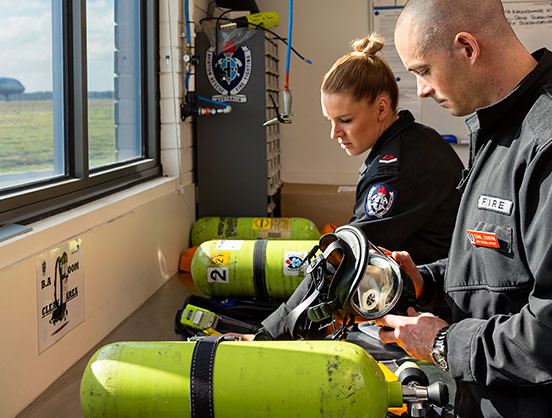 To better understand PFAS and develop practical, risk-based solutions to the challenges it presents, we have made significant investments in research and development with industry and university groups.
Our PFAS Research & Development program includes initiatives aimed at:
Gaining a better understanding of the behaviour of PFAS in the environment;
Supporting initiatives to establish screening criteria for ecological, human health and waste management;
Developing treatments to remove PFAS from impacted materials
Our current initiatives are listed below.
In 2013, we were the first fire service to engage toxicology experts from the University of Queensland (UQ) to conduct a voluntary health study on our fire fighters and their potential exposure to PFAS. All of our 731 fire fighters employed at the time were invited to take part, with 149 consenting to participate.
The study included voluntary blood testing with results provided directly to staff and advice to speak to a medical professional if they had any concerns.
This was done to provide our fire fighters with a baseline as well as contribute to the research that was starting to emerge.
Airservices again engaged the UQ to implement the second PFAS Exposure Study. This was open to Airservices Aviation Rescue Fire Fighting current and former staff.
This important project aimed to confirm whether the existing Airservices workplace health and safety controls continue to be effective in reducing potential PFAS occupational exposure, and to provide participants with updated personal information.
It is important to note that neither study provided definitive advice about an individual's health, but the results have contributed to the broader research into PFAS exposure levels and potential human health associations.
The study was designed with significant input from an internal working group that included operational fire fighters, a United Firefighters Union representative and an emergency vehicle technician.