Latest update
The International Civil Aviation Organisation (ICAO) has identified runway safety as one of its priorities in its Global Aviation Safety Plan and has been working with countries and aviation organisations globally to reduce runway safety accidents. As part of this ongoing work, ICAO has released a Runway Safety IKit which allows users to access runway safety educational products developed by its runway safety partners including Civil Air Navigation Services Organisation (CANSO), International Air Transport Association, Airports Council International, Federal Aviation Administration, International Federation of Air Line Pilots Association and Aircraft Owners and Pilots Association.
In addition to the toolkit, ICAO has developed a runway safety webpage which offers a range of information and products to assist the aviation community to improve runway safety.
Runway safety
Airservices considers runway safety one of its highest priorities as it remains one of the most serious threats to aviation safety. Improving runway safety, therefore, is a key focus of Airservices.
Improving runway safety involves considering all runway related incidents, including:
runway incursions
runway excursions
runway confusion.
Airservices is working to improve runway safety through the Runway Safety Group, a cross industry group working to provide a coordinated improvement to runway safety.
Related links
Runway safety maturity checklist
Airservices has been working with CANSO and industry workgroups to develop a Runway Safety Maturity Checklist which is designed to be used by Air Navigation Service Providers, airlines, airport operators, regulators and Aeronautical Telecommunication and Radio Navigation providers to benchmark their levels of maturity with regard to managing runway safety risks. In addition to the downloadable version of the checklist (below), organisations are able to complete the survey online by emailing a request for access to rwysafety@eurocontrol.int
Runway incursion
Runway incursions are an ongoing safety concern, with approximately 15-20 occurring in Australia every month. Reducing the number of runway incursions is paramount to improving runway safety.
ICAO defines a runway incursion to be "Any occurrence at an aerodrome involving the incorrect presence of an aircraft, vehicle or person on the protected area of a surface designated for the landing and take off of aircraft" (ICAO Doc 4444–PANS-ATM).
Runway incursions are a serious safety concern around the world and have resulted in fatal collisions between aircraft, and between aircraft and vehicles. Please review the documents below for more information on how you can avoid being involved in a runway incursion.
Runway incursion hotspots
Fortunately, most runway incursions have no immediate safety consequences. However, there are regular incursions (particularly at the capital city Class D airports) that have significant potential for a collision.
Incident reports show that runway incursions do not occur randomly around the aerodrome, but are often clustered at particular locations. These are known as 'hot spots'.
Runway incursion hotspot diagrams are an ICAO-endorsed and internationally-recognised means of providing information about aerodrome locations with an increased risk for incursions. Significant hot spots may be included in the aerodrome diagrams in ERSA and DAP. Airservices has developed hot spot flyers for the following airports:
These diagrams show the hotspots for each aerodrome and provide recommendations for ensuring runway safety. Careful consideration of these hotspots when flight planning can greatly reduce your risk of a runway incursion.
Runway excursion
A runway excursion is an event in which an aircraft veers off or overruns the runway surface during either take-off or landing. There are many factors that can cause a runway excursion including runway contamination, adverse weather conditions, mechanical failure, pilot error and unstable approaches. While Australia has had no fatal runway excursion incidents, the high number of international accidents requires a proactive approach in Australia to manage this risk.
Unstable approaches have been identified as a precursor to many accidents. Both the pilot and the air traffic controller contribute to safe, stable approaches. Airservices, in conjunction with CANSO and industry workgroups, have released a range of products to improve understanding of unstable approaches and to minimise the likelihood of runway excursions:
For more information on runway excursions please view the following reports:
Runway confusion
Runway confusion occurs when pilots enter, take off on, or land on the wrong runway.
This is a particular problem at aerodromes with parallel runway systems where it is relatively easy to mistake runways during the day or night. Runway confusion can also occur when a taxiway, usually parallel, is mistaken for a runway. This is most often a problem at night.
In addition to thoroughly planning your aerodrome operation and maintaining situational awareness, to avoid runway confusion:
pay careful attention to runways in clearances
always read back an assigned runway in full (e.g. three one left)
if a non-precision approach, circling approach or a visual approach is being flown, take sufficient time during the approach briefing to confirm how you will positively identify the correct runway
whenever conditions permit, make sure you visually identify the correct runway before you enter or land on it. Signage, orientation and runway markings are all important identifying features
runway lighting is different to taxiway lighting and should provide the flight crew with an opportunity to distinguish one from the other.
Airside drivers
Airside drivers play an important role in runway safety at all aerodromes. There are instances of vehicles being involved in serious runway incursions; therefore drivers need to take steps to ensure they are prepared to operate safely around runways.
The following educational products give airside drivers tips on how to:
avoid an airside incident or runway incursion
improve airside driver safety
speak to Air Traffic Control and understand clearances and instructions
maintain situation awareness.
Airside Drivers Guide to Runway Safety booklet
Runway safety technology
Runway stop bars
A runway stop bar is a row of lights that an aircraft must not cross without both an air traffic control clearance and the lights being extinguished.
Many international airports use stop bars. Melbourne and Sydney airports are currently the only Australian airports to have installed stop bars.
Runway Stop Bars fact sheet
Stop Bars Presentation
Advanced Surface Movement Guidance Control System (A-SMGCS)
A-SMGCS is an air traffic surveillance system enabling aircraft and vehicles on the airport surface to be accurately tracked by air traffic control in all visibility conditions. To cooperate with A-SMGCS, pilots should operate their transponders in accordance with AIP Australia ENR 1.6, 7.1.9. There is no 'Squawk Ident' procedure associated with A-SMGCS as all tracking is automatic. If A-SMGCS is not available, ATC may stop or restrict low visibility operations.
Drivers of vehicles that need to operate on runways and/or taxiways at A-SMGCS airports will progressively find that their vehicles are fitted with vehicle locators, often referred to as 'VeeLo'. These are Automatic Dependent Surveillance – Broadcast (ADS-B) transmitters that send vehicle information to the A-SMGCS system enabling the vehicle to be automatically tracked and identified on ATC tower displays. They are normally installed so that they switch on and off through the vehicle ignition switch, and will only transmit to ATC when the vehicle is on an area of ATC interest. This is normally, but not necessarily, only taxiways and runways. There is no requirement for drivers to interact with the Veelo unless it has a manual ON/OFF switch, however if it is not operating correctly drivers may be requested by ATC to have it repaired.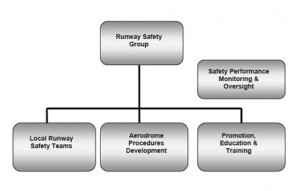 Runway Safety Group
The Runway Safety Group (RSG) was established in 2009 and consists of delegates from across industry including the Department of Infrastructure and Regional Development, ATSB, CASA, Defence, Airports, airlines and industry bodies. The aim of RSG is to identify improvements to the safety of operations on or near the runway.
One of the main initiatives of the RSG is the implementation of Local Runway Safety Teams (LRST) at Australian aerodromes.
Runway Safety Group Structure
The LRST consists of local representatives addressing local runway safety issues. At some airports, the LRST is embedded in another airfield meeting, such as the Aerodrome Users Group or Airport Safety Committee.
Airservices guide to establishing a Local Runway Safety Team
Runway safety survey
As part of the runway safety program, Airservices is conducting an ongoing national review of runway safety issues, particularly runway incursions.
Nearly all runway safety reports are generated by air traffic controllers. To allow all aspects of safety performance to be examined, it is important to capture as many perspectives of an occurrence as possible. The information gathered through reviews and feedback from all involved parties will better enable Airservices to make recommendations for changes required (if any) to procedures, training, aerodrome signage, facilities or markings.
If you have been involved in a runway incursion, you will receive a letter from Airservices and a request to complete an online Runway Safety Survey.
The Runway Safety Survey should take no more than 15 minutes to complete, although the more information you provide us, the more helpful your response will be. Your assistance by completing the survey is greatly appreciated.
Confidentiality
In completing the survey, your confidentiality is assured. Any reports generated from the information provided will not include any personal details that would allow any person, external company or agency receiving the report to identify you. The review team will be analysing for trends, trigger events and issues and not individual performance. No action will be taken against you by Airservices on the basis of the information you provide.
De-identified survey summary reports will be provided in appropriate industry safety newsletters and magazines and will be used to identify targeted safety programs and promotions that will address the most pertinent issues to all airspace users.
Safety Improvement Branch
Airservices Australia
safety.promotions@airservicesaustralia.com