We deliver services from two major air traffic service centres in Melbourne and Brisbane, as well as operating 29 control towers and 27 fire stations at airports across Australia. Our corporate headquarters are in Canberra.
Air traffic control towers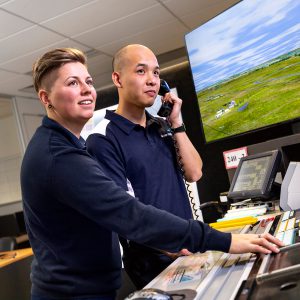 Air traffic service centres in Brisbane and Melbourne
Providing a vital layer of safety
Aviation Rescue Fire Fighting Services
Airservices is one of the world's largest fire fighting organisations, providing vital aviation fire rescue services to 26 of the busiest airports in Australia. Our Aviation Fire Fighters are trained to respond to a range of aviation emergencies - ensuring they're always ready to fight fires in aircraft and airport buildings, providing a vital layer of safety to the travelling public.