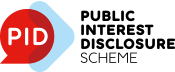 On 15 January 2014, the Public Interest Disclosure Act 2013 (PID Act) commenced.
The Public Interest Disclosure Act 2013 creates a scheme that promotes internal reporting of suspected illegal conduct or wrongdoing by public officials (including former public officials) and offers protections for individuals who do make a public interest disclosure from adverse consequences and/or reprisals. In certain limited circumstances disclosures can be made to people outside Government.
Airservices Australia is committed to ensuring the highest standards of ethical behavior and fully supports individuals who report wrongdoing or suspected wrongdoing.
Making a public interest disclosure
Public interest disclosures can be made by a public official. This includes:
any person who is, or was, employed by the Australian Government
individuals employed by any Commonwealth companies, authorities and statutory agencies, the Parliamentary service, statutory officeholders
service providers under contract to the Commonwealth and anyone employed by them.
Public interest disclosures can be made orally or in writing:
to an Authorised Officer
by email to pid@airservicesaustralia.com
by mail to:PID Authorised Officer – (please select one of the Authorised Officers below)
Airservices Australia
GPO Box 367
CANBERRA ACT 2601
You can also report anonymously, however, please note:
Airservices Australia will be limited in its ability to ensure that you are protected from reprisal
anonymity may make further investigation difficult and
it may be impossible to provide you with updates on the progress of investigations.
Authorised officers
Airservices Australia PID Authorised Officers are (current as at June 2022):
More information
Further information about the Public Internet Disclosure Scheme can be found on the Commonwealth Ombudsman website.
Further information about how Airservices receives and manages Public Interest Disclosures which is detailed in Airservices Public Interest Disclosure Procedure can be sourced through emailing pid@airservicesaustralia.com.