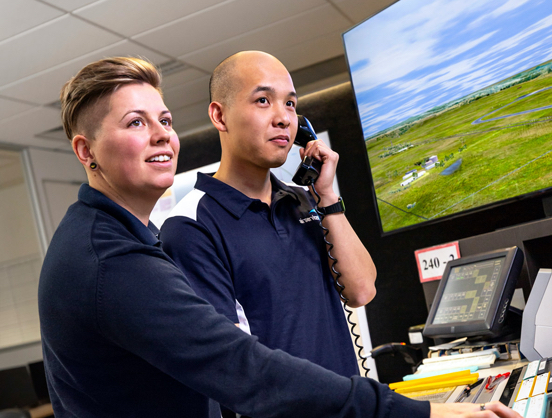 Our Air Traffic Controllers connect people with people. Exceptional teamwork and collaboration are what allow us to effectively manage the arrival and departure of more than 156 million airline passengers annually. Work for Airservices Australia and you'll find your role challenging and rewarding.

I am an on-the-job training instructor and enjoy instructing air traffic controllers in both the simulated and live training environments. Working with air traffic trainees in our simulators was an extremely rewarding experience.
Bridget Hosking, Enroute controller
Air Traffic Controllers manage the safe and orderly flow of aircraft into, out of, and between airports throughout Australia and with overseas regions adjoining Australian airspace. This is a rewarding role that requires a high level of commitment and responsibility.
Air Traffic Controllers are based around the country and work in one of our two major centres in Melbourne or Brisbane, two terminal control units or 28 control towers at international and regional airports across Australia.
There are three broad categories of Air Traffic Controllers.
In addition to the daily management of routine air traffic, controllers also provide information and assistance to pilots if they experience an in-flight emergency.
Online application form
Make sure that you have all correct documentation at the time you submit your application.
Online ability assessments
The ability assessments are completed online at home. The ability assessments to be completed are verbal reasoning, numerical reasoning, numerical calculations, a checking test and a spatial test.
Assessment Centre
This full-day Assessment Centre is conducted at our facilities at Melbourne Airport. The Assessment Centre has been designed to further assess your suitability. It includes simulator exercises and other activities.
References
You will be asked to provide details of two recent supervisors or managers. We will notify you before contacting any referees.
Pre-employment medical and security checks
If you are successful in completing the recruitment process you will be required to satisfy the requirements for medical and security checks.
Offer to commence ATC Training
If you satisfy all of the medical and security requirement you will be issued with an official offer to become and Air Traffic Control Trainee (ATC Trainee).
Start ATC Training
Once you have accepted the offer you start your journey to become an ATC Trainee.

I would highly recommend air traffic control as a career and feel like you've made a difference to the aviation community.
Craig Allan, Essendon Tower
Connect with talented people and one-of-a-kind opportunities. Browse our available positions for ongoing training, excellent career development, competitive remuneration and work that's truly meaningful.