Airservices is committed to facilitating the successful entry of RPAS into controlled airspace in a staged process that will integrate with manned operations.
Operational concept – Management of RPAS in ATM operations
As an important step to the integration of RPAS within controlled airspace operations, we have produced Management of Remotely Piloted Aircraft Systems in ATM Operations – Operational Concept document that details our approach to the management of unmanned operations and forms the basis of current and future developments by which we intend to foster growth in the RPAS sector.
We are committed to an inclusive approach to the safe integration of RPAS operations and recognise the opportunities and challenges that the RPAS sector generates. Airservices is developing the Low Level Airspace Program that will seek to deliver more efficient and suited services to low level airspace users in the near future. A part of this program is to work with the regulator to enable automated RPAS approvals for operations that fall within certain parameters.
Operation in controlled airspace
The Manual of Standards (MOS) Part 101 depicts no fly zones and approach and departure paths around controlled (and uncontrolled) aerodromes.  These zones typically relate to RPAS operations within 3NM of a controlled aerodrome below 400FT AGL that potentially affect operations over the movement area, runway or approach/departure path of a controlled aerodrome, as these are the significant parameters and assessment triggers contained in current Civil Aviation Safety Regulations.
The MOS 101 Chapter 4 (4.02) states:
The no-fly zone of a controlled aerodrome means any areas and airspace that are below 400 ft and:
within 3 NM of the movement area of a controlled aerodrome; or
within the approach and departure paths referred to in section 4.05, whether or not they extend beyond 3 NM of the movement area of the controlled aerodrome.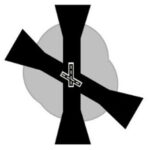 All applications for operations within the 'no fly zones' of a controlled aerodrome or above 400FT within controlled airspace must be forwarded to the CASA RPAS Office in the first instance. Visit 'Flying drones/remotely piloted aircraft in Australia' (www.casa.gov.au) for more information.
Due to the nature of the operation and/or proximity to the aerodrome,  some applications may be rejected or only approved subject to restrictions of, but not limited to, geographic lateral limits, vertical (altitude) limits, a specific time block and specific communication requirements.
Visual line of sight (VLOS) operations below 400 FT above ground level (AGL) are managed on a risk assessment basis and using segregation methods approved by Airservices. Segregation methods will evolve in line with emerging technologies.
RPAS with advanced equipment levels
The CASA Manual of Operational Standards (MOS) directs Air Traffic control (ATC) to separate RPAS and manned aircraft using conventional separation standards in situations where the RPAS is capable of supplying real-time navigation information (from an approved navigation system) and is able to communicate with ATC on normal ATC communication channels.
Aircraft priorities at controlled aerodromes are contained in the Aeronautical Information Publication Australia (AIP) ENR 10 Regulation of Flight – Assessment of Priorities.
Planning your flight
Applicants should be familiar with CASA requirements found at https://www.casa.gov.au/drones as the starting point for an application. Controlled aerodromes are listed in the Designated Airspace Handbook (DAH) at: https://www.airservicesaustralia.com/aip/aip.asp.
Airservices process applications (to operate within the 'no fly zone' of a controlled aerodrome) based on the risk the operation may pose to manned aircraft operations. The lower the residual risk, the greater the likelihood that the application will be approved. In order to reduce the risk to a minimum, the following should be taken into consideration.
Operations that are on an extension of a runway centreline pose far greater risk than those that are not.
Operations that are away from the extended centrelines and below the Obstacle Limitation Surface (OLS) of the aerodrome are more likely to be approved with minimal restriction.
The RPAS is considered to be constrained below the OLS when:

it is tethered below the OLS altitudes
it is operating in close proximity to and below the height of a nearby obstacle that is below the OLS.
for DJI RPAS, (corrected) on board altimetry indicates levels below the OLS.

Where an operation penetrates the OLS there is an increased risk to manned aircraft.These operations must be either:

Shielded: An operation that is within 100m laterally of, and below an adjacent obstacle
Segregated from manned aircraft laterally or vertically; or
Managed between manned aircraft movements
Note: These links and diagrams are representative of the OLS for each aerodrome. For confirmation of accuracy and currency of the information, please contact the aerodrome operator.
More information
CASA
Includes:
Links to Legislation
Advisory circulars
Guides to recreational and commercial flying
Safety brochures
Web forms
Management of Remotely Piloted Aircraft Systems in ATM Operations - Operational Concept (Airservices)