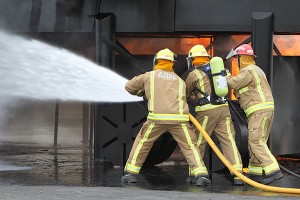 Airservices provides Aviation Rescue Fire Fighting Services (ARFFS) at 27 major domestic and international airports across the country.
ARFFS operates in accordance with the Civil Aviation Safety Authority (CASA) regulations, International Civil Aviation Organization (ICAO) Standard Rules and Recommended Practices to:
conduct operations to rescue persons and property from an aircraft that, as the result of an incident at, or in the vicinity of, an aerodrome, has crashed or caught fire
conduct operations to control and extinguish, and to protect persons and property threatened by:

a fire at an aerodrome, whether in an aircraft or elsewhere, or
a fire in the vicinity of an aerodrome that is in, or that started in, an aircraft.
Our people
We are committed to providing a world class service. To achieve this, we must be confident our specialised staff can apply their skills when called upon in an emergency.
Rigorous training is critical to ensuring we have the professional capability to respond to a diverse range of airport emergencies.
The regulations require that fully-equipped fire fighters and fire vehicles must achieve a response time not exceeding three minutes to the end of each runway in optimum visibility and surface conditions.
A further 60 seconds is allowed to gain 90 per cent control of any situation.
Every time we respond to an airport emergency, time is of the essence.
As part of our program of continuous improvement, an operational objective is to reduce that time to two minutes under the same conditions.
This level of preparedness requires 'hot fire training' and involves fire fighters practising their skills in a "mock disaster" at least once every 90 days.
The most visible impact of the exercise is the resulting smoke, so if you've observed smoke around an airport in your region, this vital training is probably the cause.
Legislative requirements
The Airports Environment Protection Regulations 1997 (part of the Airports Act 1996) limit the amount of pollution from industrial chimney stacks.
An agreement between the ARFFS and the Department of Infrastructure, Regional Development and Cities monitors the conditions under which hot fire training occurs.
The agreement states ARFFS must:
provide information to the public about such activities
advise key airport tenants of fire training events
prevent hot fire training activities during unfavourable weather conditions.
During hot fire training activities, ARFFS is permitted to exceed stated smoke limits.
Environmental responsibilities
ARFFS is continually monitoring the performance of pollution control systems which ensure that our training activities minimise any damage to the environment.
To minimise the atmospheric impact of the smoke, we carefully control the lighting and response to the training fire.
This ensures that the actual burn time is limited to a period rarely exceeding three minutes.
Only clean fuel is used during these training sessions, resulting in minimal atmospheric effect.
Sophisticated pollution control systems are in place to separate effluent residue of the fire fighting activity from the unburned fuel, this is captured and reused.
In seeking continual operational improvement, we constantly investigate alternative fuel sources for application during such training activities.
Extensive research to ensure minimal impact on our environment continues to be a challenge.
More information
The list of fire stations below conduct hot fire training. For further details on our hot fire training activities, please contact the Environmental Coordinator or your local fire station.
See also