WebTrak uses information from air traffic control secondary surveillance radars to monitor aircraft:
within 50 kilometres of the airport
up to 30 000 feet above mean sea level (AMSL).
Aircraft noise data is collected daily from noise monitors strategically located around communities close to the airport.
WebTrak now also provides an overview of where aircraft typically fly, providing an understanding of operations and patterns over time..
Common flight paths are shown as 'swathes' and show how often a particular flight path is used on a monthly, quarterly or annual basis, by time of day or weekday/weekend.
You can also look at data from noise monitors over these periods.
This information will help you gain a better understanding of aircraft operations and noise in your area. It will also allow you to find out things such as whether the aircraft operation is typical or not, which suburbs are overflown more frequently than others and the seasonal variations for flight paths.
Note: not currently available for Sunshine Coast.
Download or view our Guide to accessing historical trend information on WebTrak.
How do I access this information?
New information can be accessed by selecting the blue information icon in the flight information box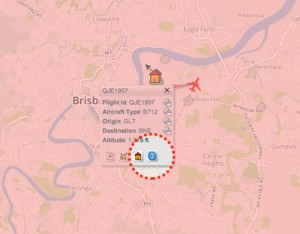 Do aircraft normally fly here?
'Swathes', depicted in green, show typical flight paths when the show flight paths box is selected. You can remove swathes you are not interested in by clicking twice on the ones you want to remove. You can get these back at any time by clicking on the light grey area.
Further information can also be found by clicking on the circle or selecting the tag box.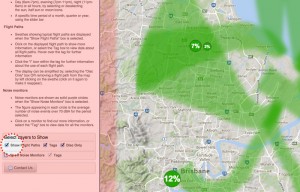 When will I notice aircraft the most?
'Swathes' can be tailored to reflect weekday or weekends and day, evening or night operations.
A specific time period of a month, quarter or year can also be selected using the slider at the bottom. Scroll this left and right to select the time period you are interested in.

Information is available on how many flights and what type of aircraft use flight paths by selecting the information symbol in the swathe information box.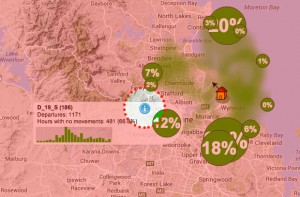 You can also see the percentage of flights that use the flight path selected compared to other paths.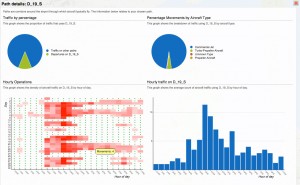 How loud are aircraft in my area?
Noise monitors are shown when the show noise monitors box is selected.
The figure that appears in the purple circle are the number of noise events over 70dB(A) for the period selected.
You can also find out more information on aircraft noise by hovering over the graph.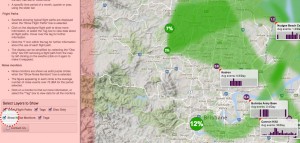 How do I lodge a complaint?
Complaints can be lodged directly through the original WebTrak screen by clicking on the Report Aircraft icon and completing the online form. Navigate back to this page using your browser's back button.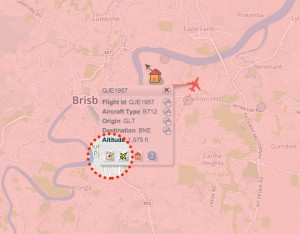 Alternatively, you can contact the Noise Complaints and Information Service via:
phone – 1800 802 584
mail – Noise Complaints and Information Service, PO Box 211, Mascot NSW 1460.
An interpreter service is also available on 131 450.
What else can I do?
WebTrak allows you to access aircraft flight activity over metropolitan areas.
Using a map to display surrounding suburbs within 50 kilometres of a selected airport, you can view information about arriving and departing aircraft, from 40 minutes to three months ago.
You can also:
locate your street address and have your home appear on the map
see noise levels of individual aircraft
view information about aircraft type, height, origin and destination
display an aircraft's flight path and point of closest approach to your home
zoom in and out down to street level.
Launch WebTrak
Related information