The recruitment process is completed in approximately four to five months from the time applications open to the time offers are made.  The stages are outlined below: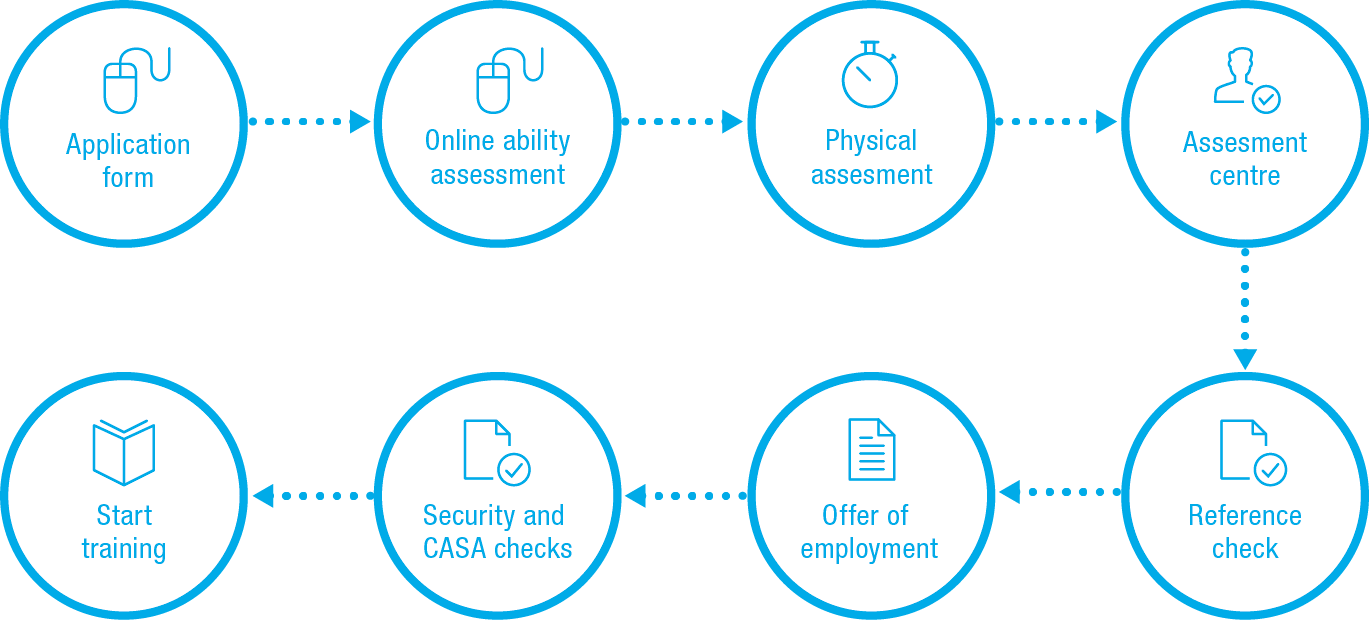 1. Application form
Advertising is undertaken on our website and online nationally. Advertising is generally open for three full weeks. We do not accept late applications. Please do not request to lodge an application or to provide supporting documents after the closing date.
IMPORTANT: When applying for a role, you will be required to enter an email address and contact phone number. It is extremely important that you enter these details correctly as we communicate throughout the recruitment process via email. Please check the spelling of your email address and ensure that you include .com or .com.au correctly. If you are using a work email address, you may find that your security settings block some of our emails (Defence email addresses in particular). It is in your best interest to use a personal email address and to ensure that you consistently check your junk or spam folders for communication from Airservices. Given the volume of applicants involved in the recruitment process, we are unable to monitor this on your behalf. Please be aware that it is your responsibility to monitor your email account for communication.
We also communicate via SMS to ensure you are aware when urgent emails are awaiting your attention. You will be asked in your application whether you wish to receive SMS alerts or not. It is in your best interest to allow SMS alerts during this process, however, it is ultimately your decision as to whether you wish to receive an SMS or not.
2. Online ability assessments
If your initial application is deemed suitable, you will be asked to complete online Cognitive and Psychometric Assessments. You will receive an email with a link to our assessment supplier's website. You will have up to seven (7) days to complete the assessments online.
3. Physical assessment
If you pass the online testing and are successful in shortlisting (based on application, eligibility and your online testing results), you may be invited to attend the physical assessments. You will be invited to attend the physical assessments at any one of our designated testing locations.
To assist our candidates to prepare for the physical aptitude test, please view our Physical Aptitude and Functional Performance Tests guide for each stage of this process.
We will also be providing a video of Stage three shortly.
4. Assessment Centre
If you pass the physical assessment, you may be invited to attend an assessment centre. The day consists of the following
Behaviour panel interview
teamwork exercise
literacy testing
5. Reference check
If you are successful in reaching this stage of the process, you will be contacted prior to reference checks being conducted. You may make changes to your referee contact details at that point. You will be required to provide the reference of a current manager (or your most recent manager/supervisor, should you not be currently working).
6. Offer of employment
If you are successful in being offered a position as an Aviation Rescue Fire Fighter in a specific location, you will be notified at least five to six weeks in advance of your employment and training course commencing, in order to provide you with sufficient time to undergo the necessary Security Check, a medical assessment based on a CASA Class II (2) and meet any other pre-employment requirements.
This will also give you time to prepare for your training course in Melbourne.
7. Security and  Medical checks
An offer of employment is contingent on passing a medical, an alcohol and other drugs test and obtaining an Airside ASIC. Darwin applicants are also required to obtain a National Security Clearance at Baseline level.
The medical assessment must be undertaken by a DAME (Designated Aviation Medical Examiner). Please note that it is your responsibility to ensure that your medical examiner forwards your results to Airservices Australia as per instructions provided to you prior to your exam.
8. Commencement of training and employment
If you are selected, you will receive 15 weeks of intensive training at our Melbourne Training Centre prior to placement at your home fire station. If you are successful in obtaining a position, we will contact you prior to the commencement of your course with relevant information to prepare you for your first day and for your training.