ATM network performance: Sydney
Airborne delay
The 75th percentile performance figures for airborne delay at Sydney are indicated in Figure 4.
May performance met the targets (0.2 minutes median and 3.3 minutes 75th percentile). However, there was an increase in delay from the same period last year (0.0 minutes median and 2.6 minutes 75th percentile). The long-term trend for airborne delay at Sydney is upwards.
There were three Level 2 GDP Revisions (one on the 04 May and two on 12 May), and two Level 1 GDP Revisions (on the 11 May and 31 May) conducted this month.
Figure 4: Sydney Airborne Delay 75th Percentile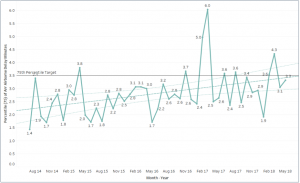 Click image to enlarge
Notable events
04 May (1700-1800 Local)
The forecast change from parallel to single runway operations occurred 3 hours early (1350-1815z), leading to a Level 2 GDP Revision. An increase in delay occurred before the effects of the Level 2 GDP Revision were realised.
Tactical releases were offered and accepted when parallel runway operations resumed at 1815.
09 May (0800-0900 Local)
Un-forecast reduction in visibility (cloud at 700ft) led to a tactical rate reduction from a planned rate of 50 down to 34 arrivals for 2 hours.
No GDP revision was conducted as the reduction was only expected to last 30-45 minutes.
10 May (1800-2100 Local)
Forecast single runway operations persisted for longer than expected and led to increased delays due to a capacity-demand imbalance.
Additional traffic metering for departures out of Sydney and Melbourne was initiated for 30 minutes due to the airborne holding reaching 45 minutes.
12 May (0800-1400 Local)
From 0800L, single runway operations were in effect for most of the day. Poor weather conditions led to increased spacing and further reductions in achieved arrival throughput.
Two Level 2 GDP Revisions were executed to manage the delays. A Post Operational Review was undertaken for the second GDP Revision conducted at 1700 local. A summary is provided below and the full report can be found in Appendix A.
13 May (0600-0800 Local)
Planned rates were reduced to manage workload as several late-notice staffing shortages reduced capacity. Delays reached 25 minutes for several aircraft.
14 May (0600-0900 & 1800-1900 Local)
Low visibility and turbulence at the airport led to a tactical reduction in rates in the morning by 2 per hour from 06-07L. A teleconference was held and the consensus was not to conduct a GDP Revision and to absorb the delay.