ATM network performance: Perth
Airborne delay
The 75th percentile performance figures for airborne delay at Perth are indicated in Figure 8.  November performance (-0.3 minutes median and 1.5 minutes 75th percentile) met the targets. Compared to the same month last year there was a decrease in the median (from 0.0 minutes) and 75th percentile (from 1.6 minutes) of airborne delay.
The long-term (48-month) and 24-month trends for airborne delay at Perth are downwards. .
Figure 8: Perth airborne delay 75th percentile (last 24 months)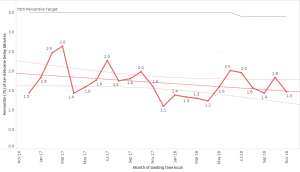 Click image to enlarge
Notable events
There were no notable events in Perth in November.