International Women's Day
Airservices champions achievements of female staff on International Women's Day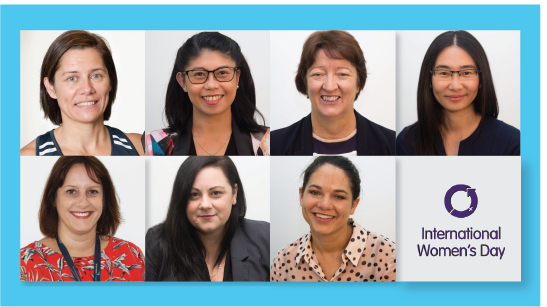 A range of talented women working in various roles across Airservices Australia have shared their personal stories to inspire and encourage others to pursue careers in aviation—an industry not always seen as an obvious career path for women.
The diverse stories of several female Airservices staff members – highlighted on this year's International Women's Day – include a firefighter, a chief air traffic controller and a compliance officer.
International Women's Day is held each year on 8 March, recognising the social, economic, cultural and political achievements of women around the world. To learn more about Airservices unique and inspirational women click on the profiles below.
Alison – Leading Firefighter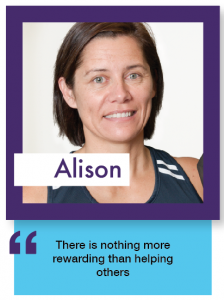 Alison has been working for Airservices since September 2012 and finds that the best part about her job is the people—the people she gets to work with and the people she get to assist on a daily basis.
"I've always loved a team environment and there is nothing more rewarding than helping others with the crew you work alongside week in week out. Experience builds trust and experiencing all of the things we have as a team certainly makes our job easier when you know you can rely on each other. Whether we are turning out to a car or building fire, an aircraft incident or a CPR job, it is nice to know that we can really trust each other.
My biggest achievement to date was the delivery of a baby at the Sydney Airport international terminal. Having four healthy children myself, the realisation that life is so precious and having to perform CPR on a newborn was something I would never have anticipated in this job…ever!
So, to hear the baby had a heart beat after our Station Officer continued CPR for up to 30 minutes was the best feeling in the world. Better yet, getting to meet the now 13 month old little one who is happy, healthy and was crawling through our station on a visit was truly memorable and one never to be forgotten."
To prospective new recruits wishing to join Airservices as a fire fighter, Alison's advice is, "apply again and again and again until you get in, as this is the most rewarding job, introduces you to a new family to work with and is by far, the best job in the world!"
Marie – Support Services Manager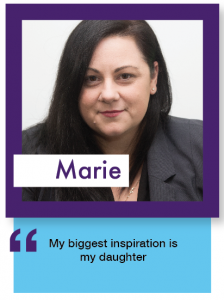 Marie has been working for Airservices for the past 15 months and as the Support Services Manager for the Information Management and Technology business group, she is accountable for the leadership and management of the group's service operations.
"I am fortunate to have a high degree of variability in my work days—as a habit, I commence each day with a review of all operational reports, my meeting schedule, and my list of important goals to remind myself of what I need to focus on when things get hectic.
I use reflective learning practices to overcome any challenges. Learning this technique has help me build resilience and enables me to bounce back faster after setbacks. Reflecting on ones situations as an observer enables me to return to the experience and evaluate it, so I can learn from it.
My biggest inspiration is my daughter, Claire, who was diagnosed with Type 1 Diabetes at the age of four (now 18). Watching her learn to manage her disease, battle some life and death moments and managing to stay a strong and positive person, helps me keep life's priorities in perspective. I'm also inspired by Sheryl Sandberg, her bravery to speak openly about women in leadership inspires me to do better.
Maya Angelou said, 'If you are always trying to be normal, you will never know how amazing you can be'. This quote helps me to remember that as a female leader, I don't have to compromise on my authenticity and femininity—I can be equal and different.
To women out their wishing to join Airservices, it's an exciting time of growth and opportunity. If you are passionate about making a difference, Airservices is a great workplace to add value."
Robyn – Chief Air Traffic Controller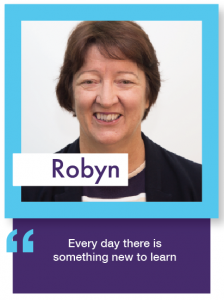 Robyn has been working for Airservices for the past 36 years and as Chief Air Traffic Controller, she ensures that effective procedures, including instrument flight procedures, are in place for the operational environment. She also provides assurance to the ANS management team that these procedures are effectively managing risks throughout the system.
"My typical day at work involves providing advice so that my team and other members of the organisation can effectively support our customers. It is also about learning, every day there is something new to learn and it helps that I work with a great team that supports me.
Airservices has been instrumental to my career and personal development, from an operational Air Traffic Controller, I have been provided support and opportunities that have allowed me to work in different roles within the organisation.
This has included challenges in undertaking roles that were outside of my comfort zone at times. These have provided a solid background in understanding the organisation as a complete entity and the environment within which we operate—giving me the foundation to undertake my current role.
People who are willing to share knowledge with others inspire me. Internal to Airservices, I would single out Melinda E. When she was my Manager, I received a comprehensive education on how to frame messages to external parties, especially the Government and the Regulator. She was willing to share her knowledge, I hope I can follow in her footsteps."
Linda – Senior Financial Accountant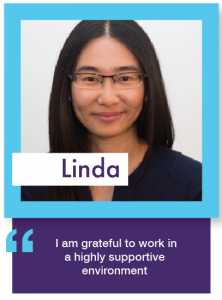 Working for the past six years, Linda, provides detailed internal and external financial reporting on Airservices performance in line with statutory financial reporting requirements, and manages all balance sheet accounting and reporting.
"The best part about my job is the people I work with—I am grateful to work in a highly supportive team environment that both inspires and challenges me. Despite everyone's differences, we encourage one another and build each other up for success.
Airservices has provided me with different career path opportunities, enabling me to learn and experience different fields of accounting. I initially joined Airservices as a Business Analyst (Management Accountant) in the ANS and ARFFS business groups, then worked as a Senior Indirect Tax Advisor, where I focused mainly on indirect taxes (fringe benefits tax, goods and services tax, etc). From there I have taken on this current role as Senior Financial Accountant in the Accounting Operations team.
My experience over the last six years within the fields of management, financial and tax accounting has helped me to become a well-rounded person both personally and professionally.
To women out their wishing to join Airservices, build up on your transferable skills, allowing you to learn and experience the many different facets of running the unique entity that is Airservices. Along the way, be true to yourself and remember the things that matter most to you as this will help keep things in perspective when faced with challenges."
Philippa – People Transformation and Policy Manager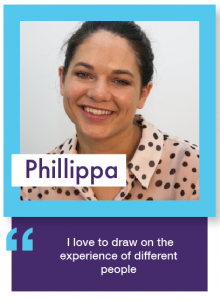 Philippa has been working for Airservices for the past five years and finds that the best part about her job is the opportunity to spend time talking to people and thinking about how people behave at work.
"I am part of the People and Leadership Strategy team that looks at our long-term people strategy, policy and procedures and enterprise-wide people initiatives. We also coordinate the Diversity and Inclusion Council which is focused on ways in which we can build a more inclusive work environment. This allows me to work with colleagues across the business—making each day a different experience.
When faced with challenges, I am lucky to have a good network of friends, family and colleagues who I can turn to, to seek advice and gain perspective on things that I am struggling with.
I have also had some great opportunities to do interesting work at Airservices. I come from a consulting background and something that I love about being internal to the organisation is the opportunity to iterate our approach, learn from the past and draw on the knowledge and experience of people across the business.
People in this business feel very passionately about their work and the contribution they make to our community. So to women out there wishing to join Airservices, it is great to be a part of that."
Frances – Senior Compliance and Assurance Specialist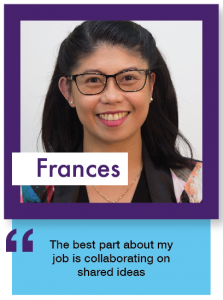 Frances works as a Senior Compliance and Assurance Specialist helping to make sure that we as an organisation continue to meet our legislative and regulatory commitments.
"The Business Services Area in Airservices was my first exposure to Australian corporate life when I first arrived in the country in 2002—it was very interesting to get to work in diverse roles from transcribing flight strips to processing million-dollar Qantas cheques.
Having re-joined Airservices in May 2017, I am fortunate to come back and lend a hand in developing the systematic way we will manage our obligations and provide assurance to our stakeholders. This is extremely helpful in building strong networks across the organisation and challenges me to find efficient ways to align how we implement compliance and assurance activities.
The best part about my job is the ability to consult right across the organisation and the opportunity to collaborate on shared ideas.
Baden-Powell's campsite rule—'always leave a place better than when you have found it' is my favourite quote. Makes one realise we can influence change and have a positive effect. To me, this means that you've done your best and you won't have regrets when you move forward. It works on so many levels.
To women out their wishing to join Airservices, be curious and ask questions to learn, then be brave, share your thoughts to be heard where and when it matters to you."
Tracey – Governance and Security Manager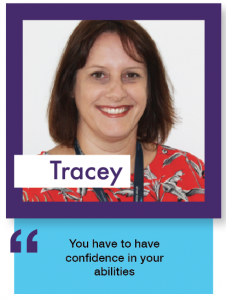 A focus on governance, risk management, compliance, assurance and influencing good business practices to achieve Airservices objectives is what makes up a typical day at work for Tracey, Governance and Security Manager.
"I've been working in the Governance and Security role since September 2016 and these past few years have been instrumental to my career and personal development.
Airservices has given me a lot of opportunities to progress from a relatively junior staff member to a senior manager. I've had the opportunity to attend Board meetings and present material which helped me grow in confidence and believe in myself and my opinions. The best part about my job is that there is never a dull day. I get to talk to a whole lot of people and influence their thinking—the small wins make a difference and I like seeing my team kick some goals.
Positive people inspire me—people who have energy and are motivated. Having said that, I am grateful that I've got a lot of really positive people around me both at home and at work. 'It is what it is' is a quote I often use. My husband hates this quote, but it helps me to reinforce within myself that I can only do so much. It helps with perspective at times.
To women out their wishing to join Airservices, great choice! While there are a lot of opportunities, you sometimes have to make your own by having the confidence in your abilities and making connections with like-minded people."