Use of fire fighting foam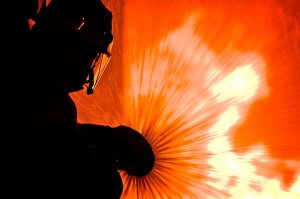 International civil aviation regulations adopted by Australia specify performance, training and operational requirements for aviation rescue fire fighting (ARFF) services, including for fire fighting foams.
Foam types
While serious aircraft incidents are rare, it is important that fire fighters use the most effective product available in order to save lives.
Fire fighting foams are currently classified as Class A and Class B.
Class B fire fighting foam is a higher performing foam than Class A and is effective for use on fires involving liquid fuels such as petroleum, diesel or aviation fuels. Class B foams create a barrier that prevents oxygen reaching the fuel, therefore smothering, cooling and extinguishing the fire.
Airservices currently uses a PFC-free product called Solberg RF6 which is a Class B fire fighting foam.
Historic use of fire fighting foam
Since the 1950s, various types of foams were used in ARFF services around Australia. In the 1960s, the 3M Company and the United States Navy developed an aqueous film-forming foam (AFFF) specifically for fighting fuel fires.
The foam was called 3M Lightwater. It was designed to spread rapidly across the surface of fuels and create a water film beneath the foam to cool the liquid fuel and stop the formation of flammable vapours. This AFFF had superior fire knockdown capability which was particularly effective for fire fighting operations and began to be used by many fire services around the world.
Airservices understands that the following AFFFs have been used over time:
from the early 1980s to 1995, 3M Lightwater was used by the Civil Aviation Authority and the Department of Civil Aviation
from 1995 to 2003, Airservices used 3M Lightwater
from 2003 to 2010 Airservices used Ansulite.
Our current foam
In 2010 we transitioned to a PFC free foam, Solberg RF6, at all airports where we provide fire fighting services (with the exception of the joint civil-military airports of Darwin and Townsville due to Defence requirements ). However, we have not used foam for training or response at Darwin or Townsville since 2010.