Bridget Hosking
Position: En route controller
Location: Melbourne
I gained my initial Air Traffic Licence in November 2009 and work in the en route environment based at Melbourne Airport. My airspace extends from Dubbo NSW, west to Alice Springs, across the Nullarbor and the Great Australian Bight. I am an on the job training instructor and enjoy instructing air traffic controllers in both the simulated and live training environments.
Check out Bridget's profile on YouTube.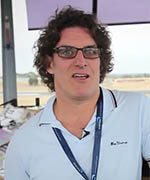 Craig Allan
Position: Tower controllers
Location: Essendon Tower
What I love about my job is that it is different every day. My mum pointed an advertisement out to me in the paper and said this looks like it could be for you. I was lucky enough to get through the recruitment and be selected for a course. I've worked at four different control towers over the years. I would highly recommend air traffic control as a career and feel like you've made a difference to the aviation community.
Check out Craig's profile on YouTube.
Melissa Lindsay
Position: Tower controller
Location: Mackay Tower
My stepfather is a controller and it always seemed like a really interesting and different job, growing up I had my heart set on joining the health industry. I knew early on that it wasn't for me. I began researching other careers. Airservices was advertising so I tagged along with my step-dad to see what the job would be like and knew almost straight away that I wanted to become a controller.
My time at the Academy was one of the most challenging yet rewarding experiences of my life. I didn't have an aviation background so the first couple of months of theory were tough, but gave me the drive to succeed and strong work ethic that I would need when my training was completed.
I love working in the tower environment and the small team in Mackay are a fantastic group to work with. Working in the tower is fast paced and everyday presents a new challenge and the satisfaction I get knowing that I have contributed to keeping all the aircraft, passengers and crew safe.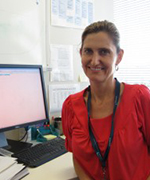 Tammy Astill
Position: Air Traffic Control Line Manager, Oceanic and Transcontinental Services
Location: Brisbane
I spent the first 11 years of my working life working as a mathematics teacher, firstly in outback Queensland and then at a British International School in Brunei.
When I moved back to Australia I decided the time was right for a change of career. Sparked by my interest in aviation and remembering an advertisement I had seen eight years earlier I applied to join Airservices.
I supervise a team of staff that manage HF communications. I take great pride in ensuring everyone is given the opportunity to perform their roles to the best of their ability. I also get to use many of the skills I developed as a teacher through training staff who are learning new roles.
There is no such thing as typical, every day in air traffic control is different. We learn very quickly to expect the unexpected which I love as it means I have great variety in my job and get to interact with a wide variety of people from across Airservices.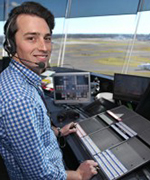 Toby Gaumann
Position: Tower controller
Location: Sydney
My interest in becoming a controller developed when I was quite young as a result of my father being employed within the aviation industry. After I finished high school, I enrolled in a Commercial Pilots Licence course and, after completion, undertook an applied science degree in aviation. As my degree neared completion, I discovered an advertisement for the Airservices Australia graduate program and thought it would be a great opportunity to use my skills, knowledge and passion for aviation.
It was during the graduate program I developed an interest air traffic control and applied to start training at the Learning Academy. I began 12 months of training and then I moved to Sydney and started work as a tower controller.
Working in Sydney Tower involves working a 24/7 roster alongside a team of 42 controllers, managing over 1000 movements a day in a fast-paced and dynamic environment. Every shift is different and can involve anything from managing inclement weather to VIP arrivals; no two hours are the same let alone two days!